Transport of Steel Coil, MOL COILPORTER®
MOL Coilporter
TOP > 

Search by Purpose

 > 

Transport of Steel Coil, MOL COILPORTER®
Transport of Steel Coils Made Simple ― MOL COILPORTER®
If you need any help transporting steel coils via container—or in fact, anything related to steel coils—count on us, MOL Logistics.
POINT01

I need a safe way to ship steel coils!
We are looking for a forwarder that can meet a strict delivery schedule, even on urgent orders.
We need a forwarder we can always count on for comprehensive services including the loading of coils in port and domestic trailer transport.

POINT02

MOL Logistics draws upon proven technology and extensive knowledge gained in worldwide operations.
We develop a broad range of steel coil transport solutions, not only in Japan, but also in Thailand, Vietnam, India, and Myanmar.
Transport of Steel Coil
Issues/Hurdles
Transport of steel coils requires optimal packaging, stowage, and lashing operations. They are massive, and because they are round, the contact area is much smaller than square cargo of the same weight. Customers also need forwarders that can respond precisely to urgent shipping needs.
Solutions
From arrangement of optimal packaging for coil transport, to customs clearance and loading onto vessels or airplanes, MOL Logistics promises on-time delivery by either ocean shipping or urgent air transport.
Count on us even for urgent orders. With our extensive knowledge, expertise, and technology accumulated over decades of services, we can significantly reduce lead time.
We can also develop and present a specific and detailed shipping schedule.
MOL Logistics offers optimal steel coil transport that meets customers' needs and budget!
Example of packaging steel coils (air forwarding)
The steel coil is firmly lashed with tie-down belts, further lashed with netting to prevent side-to-side slippage and damage to the cargo.
We load and arrange the cargo on the airplane in consideration of the load distribution during air shipping.

MOL COILPORTER®
What is the MOL COILPORTER®?
This new cradle, used to lash steel coils, provides stress-free containerized transport of steel coils.
It was jointly developed by Mitsui O.S.K. Lines, Ltd. (MOL) and MOL Techno-Trade, Ltd. (MOL Tech).
Our NVOCC service using the MOL COILPORTER® started in May 2020.
Outline
The MOL COILPORTER® allows anyone to quickly prepare a kit for transport of coils, which until now had to be lashed with timbers for containerized transport. It meets or exceeds conventional lashing in terms of transport safety and can be put together easily and safely.
03

Reliable, quickly assembled
Conventional Lashing (with timbers)
MOL COILPORTER®

About 1 hour by two skilled carpenters (measurement/cutting/carpentry).
Manually carry and construct with square timbers weighing from 150-200kg.
Special equipment is required to load into the inner depths of the container.
Assembly/Loading
About 3 minutes per cradle even with inexperienced workers.
Maximum weight of each component in the assembly kit is about 3kg/part.
The cargo can be pushed into the container for loading, and no special equipment is required.
Requires time-consuming dismantling work such as removal of nails from the lashing material.
Special equipment is required to unload the coils from deep inside the container.
Disassembly/Unloading
Easy to dismantle thanks to assembly kit.
The cargo can be pulled out for unloading, and no special equipment is required.
Square timbers are in direct contact with coils, subjecting the cargo to risk of damage. Resiliency High resiliency reduces risk of cargo damage.
Resiliency
High resiliency reduces risk of cargo damage.
Timbers are discarded after dismantled at the unloading operation.
Environmental impact
Reusable and recyclable, ensuring more effective use of resources.
MOL COILPORTER® Features
Main features are as follows. The "MOL COILPORTER®" trademark has been registered in major countries. And it is already patented in Japan (No. 6650255), with other patents pending.
It reduces damage resulting from contact between the dunnage and the coil with a high-resiliency material that combines firmness and flexibility, achieving significantly lighter weight. The MOL COILPORTER® is easy for anyone to assemble safely, easily, and quickly, and can be pushed in and out of the container.
It improves convenience in on-site response with standard specifications that apply to a wide range of coil diameters and body widths.
High resiliency and high tolerances allow for repeated use of limited resources, plus the material is easy to recycle.
Developing versatile solutions all over the world
MOL Logistics is a professional steel coil transporter with many years of experience providing logistics solutions in the transport of steel coils.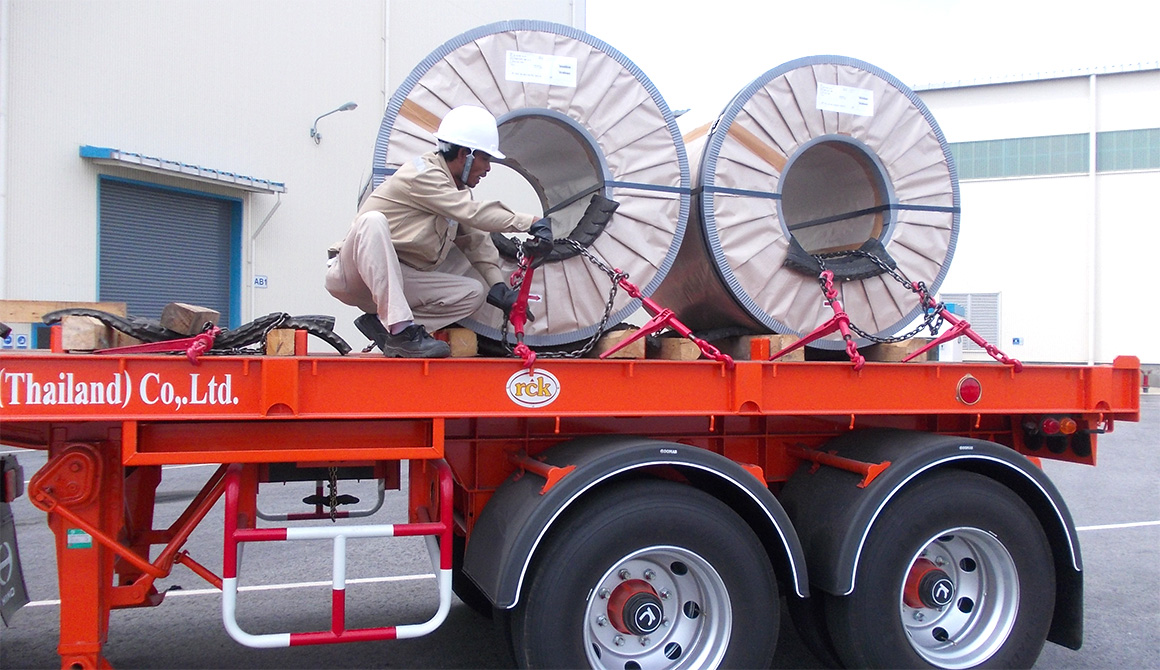 A professional in coil transport (MOL Logistics (Thailand))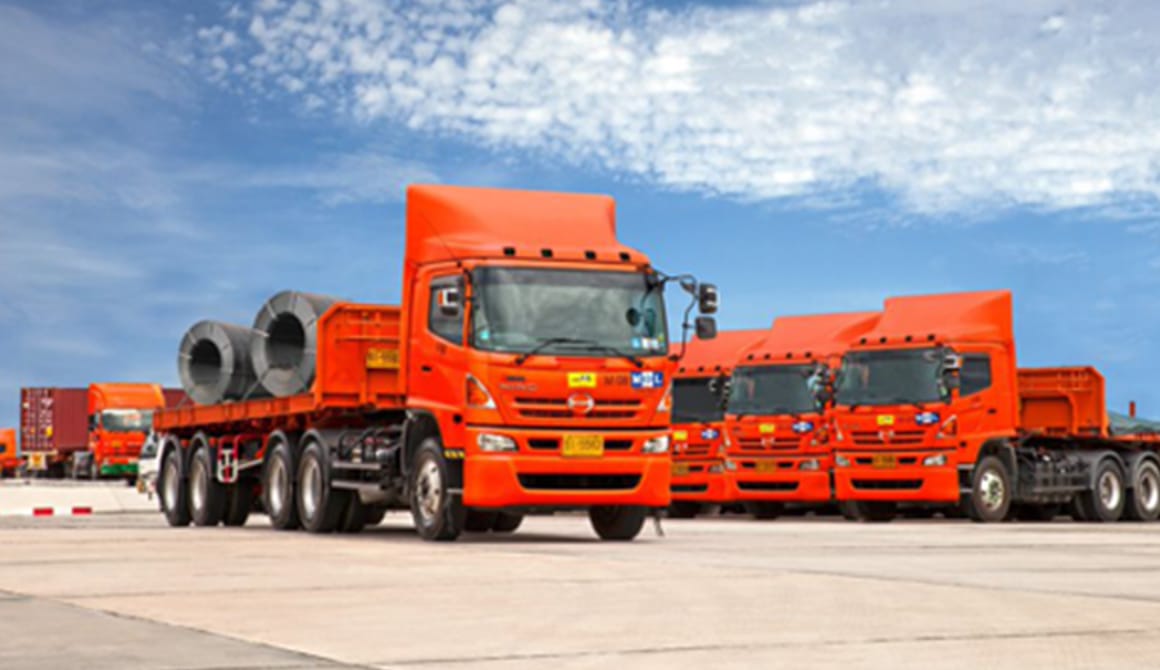 A pioneer in coil transport by trailer (MOL Logistics (Thailand))
Contact Us