February 07, 2022
TOKYO-MOL Logistics Co., Ltd. (MLG; President: Koichi Yashima) today announced the introduction of chemical product transport using tank containers in the U.S. this month, following the launch of this service in Asia last year. MLG joined forces with Nippon Concept Corporation (Nichicon; President: Takayoshi Matsumoto; Headquarters: Chiyoda-ku, Tokyo) and Mitsui O.S.K. Lines, Ltd. (MOL; President & CEO: Takeshi Hashimoto); Headquarters: Minato-ku, Tokyo), (Note 1) to establish MOL Logistics (Tank Containers) (MLGTC; President: Shuhei Togo; Headquarters: Chiyoda-ku, Tokyo) in June 2021 (Note 2). Through MLGTC, MLG's overseas subsidiaries began overseas agency services for Nichicon and expanded and enhanced  chemical product transport using Nichicon's tank containers.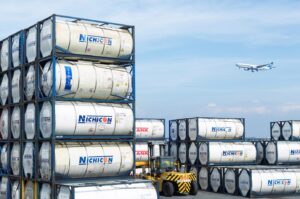 (Tank Containers and terminal of Nichicon)
 MLG formed a partnership with Nichicon not only in Mexico, Myammer, and Vietnam, but also expanded its scope in August 2021 to cover Thailand, India, the Philippines, China, Taiwan, and Hong Kong. It is currently bringing innnovation to the chemical product transport business both from business and operational aspects in a total pf nine countries and regions around the world.
In the U.S., Nichicon established its wholly-owned subsidiary Nippon Concept America, LLC, in Houston, Texas, in February 2012 and developed the business as a sales hub serving the U.S.
With the chemical product transport market expected to grow, MLGTC will offer innovative service to current customers as well as expand ties with potential customers, with MLG supporting Nichicon's business through its 14 branches in the U.S.
MLG currently has a global network with 135 branches in 26 counties and 188 agencies in 51 countries (Note 3). Following Asia and the U.S., it will continue to expand its business partnership areas including Europe to maximize the synergistic effects. It will expand and ehnance the service lineups of overseas subsidiaries by developing liquefied cargo transport service, including chemical products, using safe, high-quality tank containers.
Along with Nichicon and MOL, MLG contributes to the sustainable growth of society while working to protect the global environment, for example, by reducing leakage of harmful substances into the ocean and colleciton and detoxification of chlorofluorocarbons (CFCs) using "ISO tank containers," which have low environmental impact and can be used repeatedly.
(Note 1) For details, please refer to Nichicon website.
http://en.n-concept.co.jp/index.html
(Note 2) For details, please refer to June 23, 2021 press release.
MOL Logistics, MOL, and Nichicon Establish Joint Company – Will Serve as Core of Efforts to Enhance Business Ties globally in Liquid Cargo Transport Market –
(Note 3) Please refer to the following URL for MLG global networks.
Global Network|MOL Logistics Co., Ltd. (mol-logistics-group.com)