May 26, 2022 
TOKYO—MOL Logistics Co., Ltd. (MLG; President: Kochi Yashima) today announced that, effective May 16, its subsidiary in Vietnam, MOL Logistics (Vietnam) Inc., started operations at its new office in the Cai Mep Industrial Park, Ba Ria-Vung Tau Province, in the southeastern part of the nation.
Ba Ria-Vung Tau Province is home to Cai Mep Thi Vai Port—the only international deep-water port in the southeastern and southern parts of Vietnam—and the local goverment is aggressively encouraging foreign investment. The entire nation is focused on large-scale economic policies, especially attracting foreign investment. The province is home to many industrial parks, including the special Phu My 3 Industrial Park where many Japanese companies have established operations.
Ba Ria-Vung Tau Province has a very convenient location for direct freight service to North Amercia and Europe and international logistics, just over an hour's drive from Ho Chi Minh City and with a port that can accommodate large-scale vessels. The province is also in a strategicaly important location, just 30km from Long Thanh International Airport in adjacent Dong Nai Province, which is slated to open in 2025.
MOL Logistics (Vietnam) is strengthening its business structure to offer various logistics services such as import/export customs, installation and delivery, cargo loading operations, and cross border-transport, as well as domestic trucking, for customers who are setting up shop not only in the Cai Mep Industrial Zone but also at nearby industrial parks and surrounding areas.
MOL Logistics (Vietnam) was established in November 2005. Its headquarters is in Ho Chi Minh City in southern Vietnam, and it has a branch in Hanoi in the north, as well as 10 offices—at Noi Bai International Airport, Nomura Industrial Park, Hai Phong City, Hai Duong, Thai Binh, Quang Ninh, Ben Tre, Binh Duong, Da Nang, and Dong Nai, along with the Haiphong Logistics Center and a warehouse in Song Than in the southern province of Binh Duon. With the opening of the Ba Ria-Vung Tau Office, the company has a total of 15 locations in Vietnam. MLG's worldwide network encompasses 137 offices and warehouses in 26 countries.
MOL Logistics continually develops and expands its worldwide logistics network, striving to further improve service quality.
[Outline]
Name

MOL Logistics (Vietnam) Inc., Ba Ria – Vung Tau Office

Address

965 Street, Cai Mep Industrial Park, Tan Phuoc Ward, Phu My Town,

Ba Ria-Vung Tau Province.

Open

May 16, 2022

Representative

General Director  Joji Suzuki

Personnel

1 full-time employee (responsbile for business and customer service)
[photo]
・The building where the MOL Logistics (Vietnam) Inc., Ba Ria-Vung Tau Office is located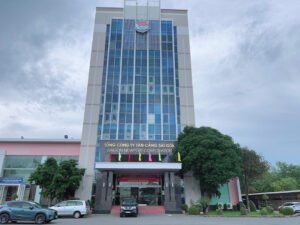 ・Entrance of MOL Logistics (Vietnam) Inc., Ba Ria-Vung Tau Office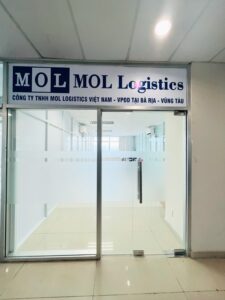 [map] Location of MOL Logistics (Vietnam) Inc., Ba Ria-Vung Tau Office
Source:  Google Maps
Ho Chi Minh City,   MLG-VN HCM Headquarters,   1 hour and 47 minute drive,   Ba Ria-Vung Tau Office